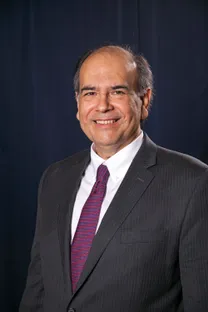 Fred Farias III, OD, FAAO
Dr. Fred Farias is a national and state award-winning optometrist who has earned a Bachelor of Science from The University of Texas at Austin, a master's degree from Harvard University, and a doctorate from Southern College of Optometry. He has more than 30 years of experience in caring for patients in Texas' Rio Grande Valley.
Dr.Farias has been named national and state Optometrist of the Year by the American and Texas Optometric Associations. The University of Texas at Austin named him Outstanding Young Texas Alumnus, and The Southern College of Optometry honored him by naming him a recipient of the Distinguished Alumnus Lifetime Achievement Award.
Dr.Farias is a fellow of the American Academy of Optometry and has served as a member of the Texas State Board of Optometry as a gubernatorial appointee. He has served on the board of trustees of the American Optometric Association, past president of the Texas Optometric Association, and past president of the Rio Grande Optometric Society.
He is currently the chair of the Texas Higher Education Coordinating Board, which oversees all Texas public universities and colleges, including community colleges and technical colleges.
Dr.Farias is very involved in the McAllen and Rio Grande Valley communities. He is chair of the McAllen Chamber of Commerce Government Affairs Council and serves on the board of Futuro Rio Grande Valley. He has served on many community boards, including the Vannie E. Cook Cancer Center Board of Directors, the Rio Grande Valley Arthritis Foundation, and the McAllen Boys and Girls Club.